The beginning of August marks the end of another performance season for Soh Daiko. This year, in addition to our annual Bon festivals, where we are able to reunite with our sister groups from Seabrook Buddhist Temple (Hoh Daiko) and Ekoji Buddhist Temple (Nen Daiko), we had the amazing opportunity to return to the Indigenous Arts and Music Festival at Ganondagan State Historic Park in upstate New York.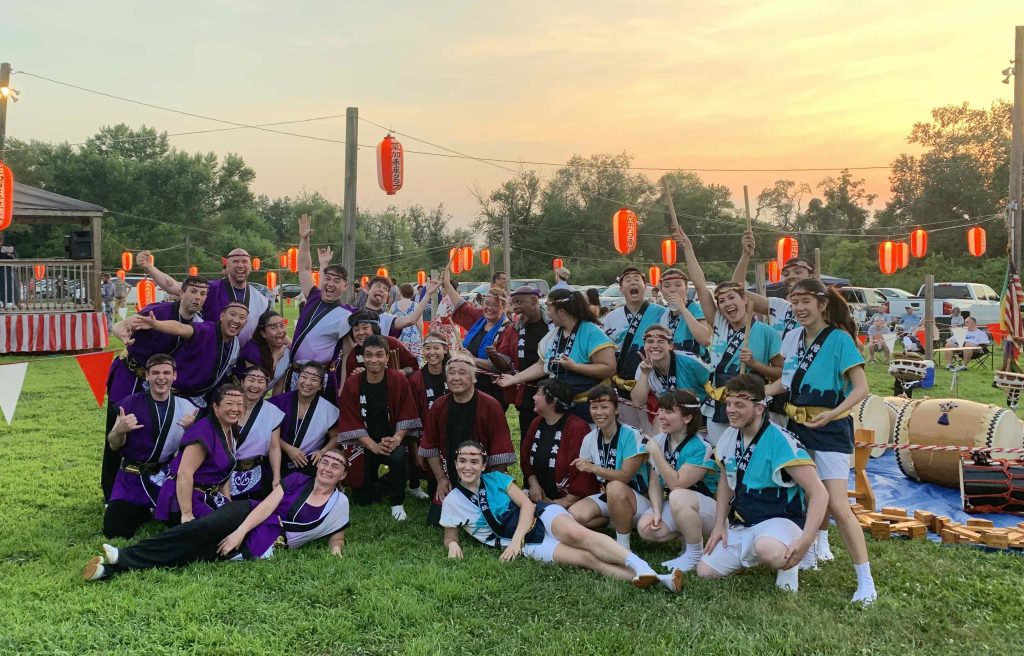 Soh Daiko last performed at this festival 15 years ago in 2004 – some of our current members were in attendance at that time, as well! – but the incredibly warm welcome from festival organizers and enthusiastic audiences who attended both of our performances this past weekend made us feel right at home. To all of our family, friends, and supporters who carried us through this 2018-2019 season, thank you. We revisited our roots, we reached new milestones, we carried on traditions, and we grew stronger as a team. Okagesamade.
A bittersweet weekend, this last performance also marked the final Soh Daiko stage appearance of one of our members, Mac Evans. Mac has been an unstoppable force in our group for the past five years; a capable performer who quickly adapts under pressure to any situation, be it rain or sleet or a slanted stage. Mac was also responsible for all of our equipment. He led the maintenance and organization of our instruments, guided new members through the trials and tribulations of building and re-skinning barrel taiko, standardized our van-loading efficiency, and even expanded our musical palettes when he DJ'ed long road trips to far-away venues. The longer the trip, the more interesting the music became. Mac leaves no stone unturned when it comes to his willingness to explore new musical concepts and broaden his (and by extension, our group's) understanding of taiko pedagogy and technical practices.
Also the liaison between Soh Daiko and the New York Buddhist Church, Mac not only became a member of the church, but committed to joining the NYBC Board of Directors, where he played a key role in helping to maintain the strong bond between Soh Daiko and our NYBC community. Always a teacher, a mentor, a friend, and a part of our family, his generosity of time, commitment, and spirit is unparalleled. Thank you, Mac, for all you have contributed over these past 5 years. You will be sorely missed. (Please visit.)