On Saturday, June 22, 2019, Soh Daiko celebrated our 40th Anniversary surrounded by our community, our friends, our family, and each other – 47 members from Soh Daiko's past and present, to be exact.
When Mamoru Funai and James Moran gathered our founding group members together in 1979, they collectively formed the first taiko group on the east coast. Asking Reverend Hozen Seki of the New York Buddhist Church for a name that would mean "peace, harmony, and working together," we became known as Soh Daiko. To pay homage not only to the meaning behind this name, but to the legacy of members who have upheld these values throughout our now 40-year history, we curated our Anniversary Concert around the theme of kizuna, or "bonds."
In recognition of the bonds that unite our members past and present, we invited alumni to join us in performance. Alumni who have since retired from playing taiko, alumni who have moved to different states, who have just started new lives with new, growing families, who took time out of their lives to come "home," reprising positions they had played during their tenure in Soh Daiko, or composing solos that demonstrated the unique character each and every person brings to our group. For current members, it was an indescribable joy to experience how these performers returned and seamlessly folded back into our ranks as if they had never left.
Through these bonds, we also had the pleasure of being reunited with many more alumni, including Mamoru Funai and James Moran themselves, who joined the 40th Anniversary celebration as members of our audience. Some traveled all the way back from Japan to be present for this event. Collectively, our alumni in attendance represented all 4 decades of Soh Daiko's existence.
As a part of the New York Buddhist Church, we are fortunate to share ties with the taiko groups of our sister temples – Hoh Daiko at Seabrook Buddhist Temple (Seabrook, NJ) and Nen Daiko at Ekoji Buddhist Temple (Fairfax Station, VA). Members of both groups attended the concert, bringing overwhelming excitement and support (and kiai throughout the show – yes, we heard you!).
Through the bond of friendship, our 40th Anniversary Concert afforded us the opportunity to celebrate long-lasting relationships with additional taiko groups and practitioners near and far. In particular, we are honored to have once again shared the stage with Kodo Distinguished Member Yoko Fujimoto, who has been a teacher, mentor, and friend to Soh Daiko since our beginnings. In addition to sharing her own repertoire on stage, Yoko infused her music into our arrangement of Matsuri Daiko, and dedicated time to teach our members the song Yasae-bushi, which we performed alongside her.
In the process of planning this event, as current performing members took stock of all these relationships and connections, we considered our own role as representatives of Soh Daiko's 40-year legacy. Ultimately, we recognize that we are not only committed to our group's history, but also to its future. As such, with generous financial support from our alumni and community as a part of our Fun for the Future campaign, we made the decision to form a new bond: After 40 years of performing on our own hand-made barrel taiko – a tradition that we will continue to honor – we have invested in a new set of performance drums, crafted by Asano Taiko. With the help of beautiful new handcrafted traveling cases by Toni Yagami (Taiko with Toni), we were able to unveil and perform on these instruments for the first time in our 40th Anniversary Concert.
Finally, we would be remiss to not recognize a bond that drives us every day, at every practice, fostering the future that we are preparing for: our audience. The amazing community who joins us week after week, taking time out of their lives to show appreciation for this art form that we love. Thank you. Through all of these relationships, we will continue to honor those who came before us and pave the way for those who will follow. We are who we are because of you.
おかげさまで。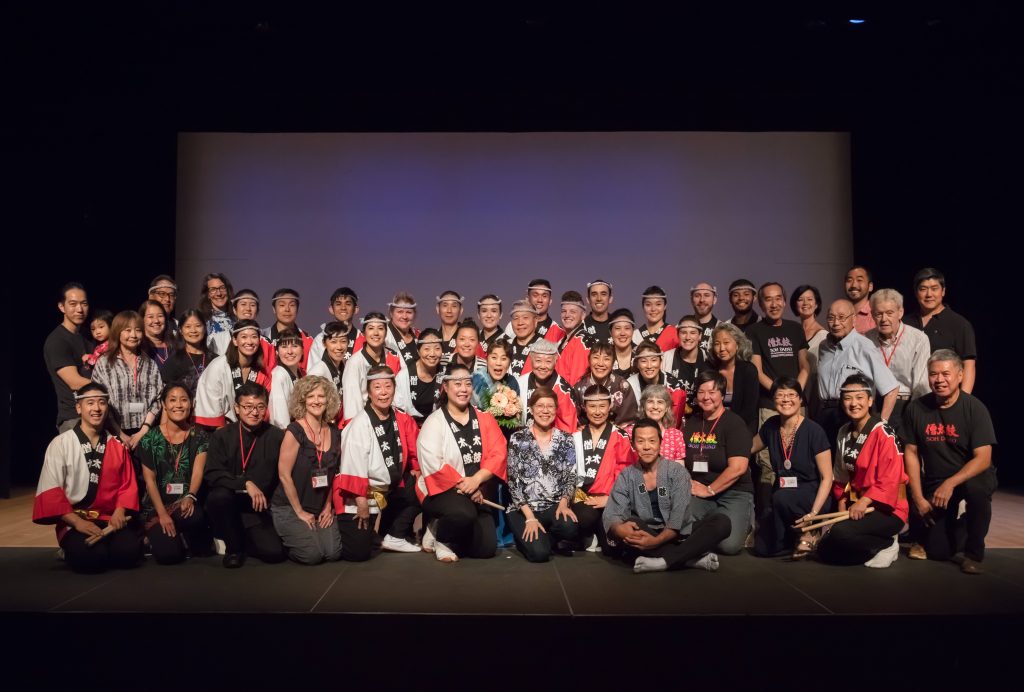 Fun for the Future
In honor of our 40th anniversary and in support of all the years to come, this spring we launched our "Fun for the Future" fundraising campaign. Throughout our 40th anniversary year, we aim to raise $100,000, allowing us to continue our mission to promote and propagate an understanding and love for taiko music for the next 40 years (and beyond!).
The six chu daiko unveiled on stage at our 40th Anniversary Concert, crafted by Asano Taiko, were funded by this campaign. We intend to use the rest of this fund to enable further growth of the group through investments in additional new equipment, new repertoire, workshops, costumes, and more.
Four of our founding members – Alan Okada, Mieko Okada, Sandy Ikeda, and Jenny Wada – have pledged to match the first $20,000 donated toward this campaign. We still have a long way to go to meet our goal, and would be grateful for any support you can give. If you are interested in contributing please visit:
https://40th.sohdaiko.org/support
Performance photos by Veronica Diaz.