We recently lost one of our own, Maria "Maiyah" Olivas, who played with Soh Daiko from 1993 through 1997. In September, she died suddenly of a heart attack, which seems impossible because she had such a big, strong, beautiful heart and it appeared it would beat forever.

Within Soh Daiko and wherever she went, she was known for her giving spirit. We last saw her at our 35th Anniversary celebration, where, true to form, she made a generous contribution to the group.

We asked members from her time in the group and others in the taiko community that she also touched to share their remembrances of her – as a taiko player and as a friend.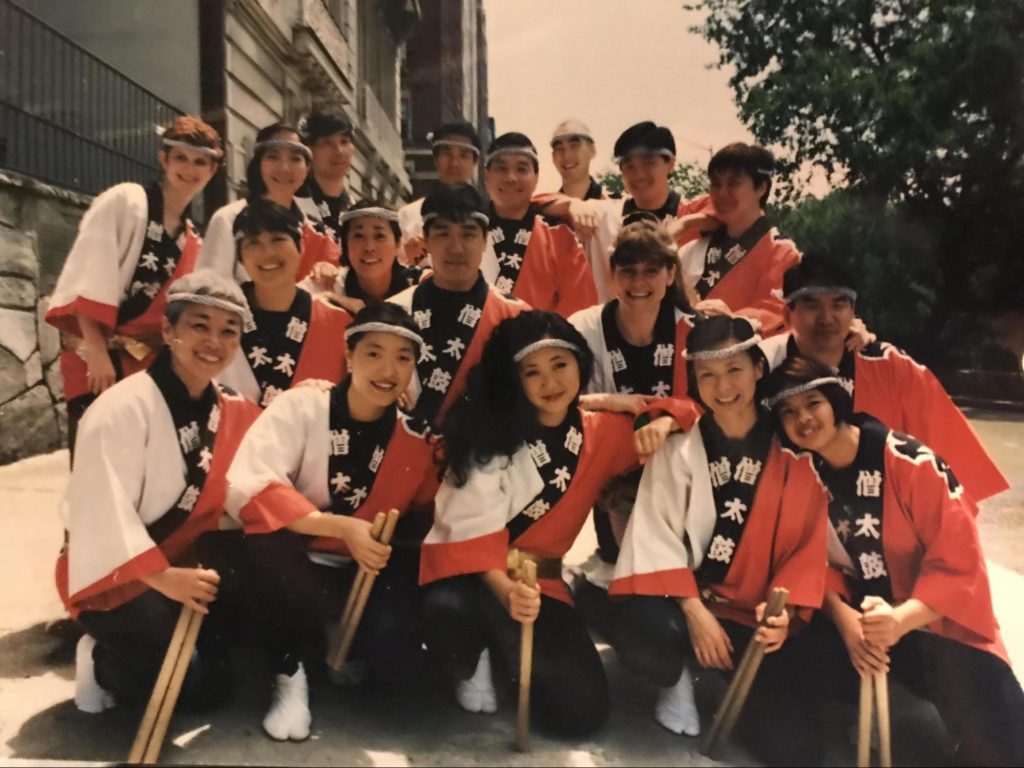 Merle and Alan Okada, and Teddy Yoshikami
She lives on in our memories as a strikingly passionate drummer. There was nothing tentative about her approach to life or taiko as she demonstrated while training to become a member. She would drum until her hands bled; witness the many Band-Aids we kept getting! She performed with Soh Daiko at the first national taiko conference in 1997 and worried that she wouldn't be good enough. No worries there as she pushed her body to stretch into dramatic poses that caused her to hurt afterwards. She didn't want to let the group down she said. She explored new ways of getting stronger and healthy including stretchy bands, new ways of thinking, even learning to heal others over the telephone! There was only one Maria who would try to do that. An unforgettable Maria!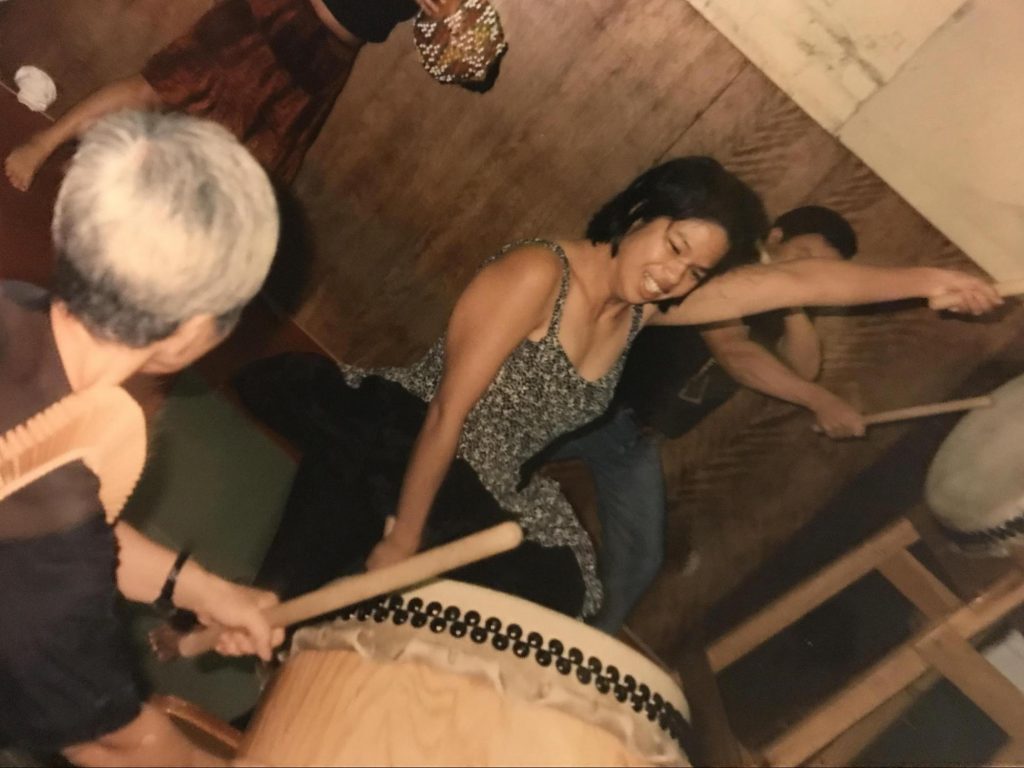 Kaoru Watanabe
When I first joined Soh Daiko in the fall of 1996, I was immediately taken by both Maiyah's powerful movements when playing the taiko as well as her welcoming and generous spirit, always willing to take the time to help me get up to speed. She has been a beloved friend ever since and although I only saw Maiyah intermittently over the last couple of decades, it always brought such joy to see that huge smile of hers.
Rest in Peace, Maiyah.
Lesley Handa
I will always remember Maria vividly as a nurturing free spirit who was always very kind to me. My fondest memories of her are probably the best memories I could honestly have about anyone – her initiating joyous dancing during the post taiko jam party in the JACCC Plaza and after the jamming session on the following Sunday morning. For me, those unplanned moments of spontaneous dancing were the culmination of all of the good community feelings and the most pure and special moments of the entire conference. We danced because we were full of joy from our love of taiko and from our love of being with the community that was family, our taiko family. I will miss her dearly, but I am thrilled that I got to experience some of my favorite and most joyful moments in my lifetime with her.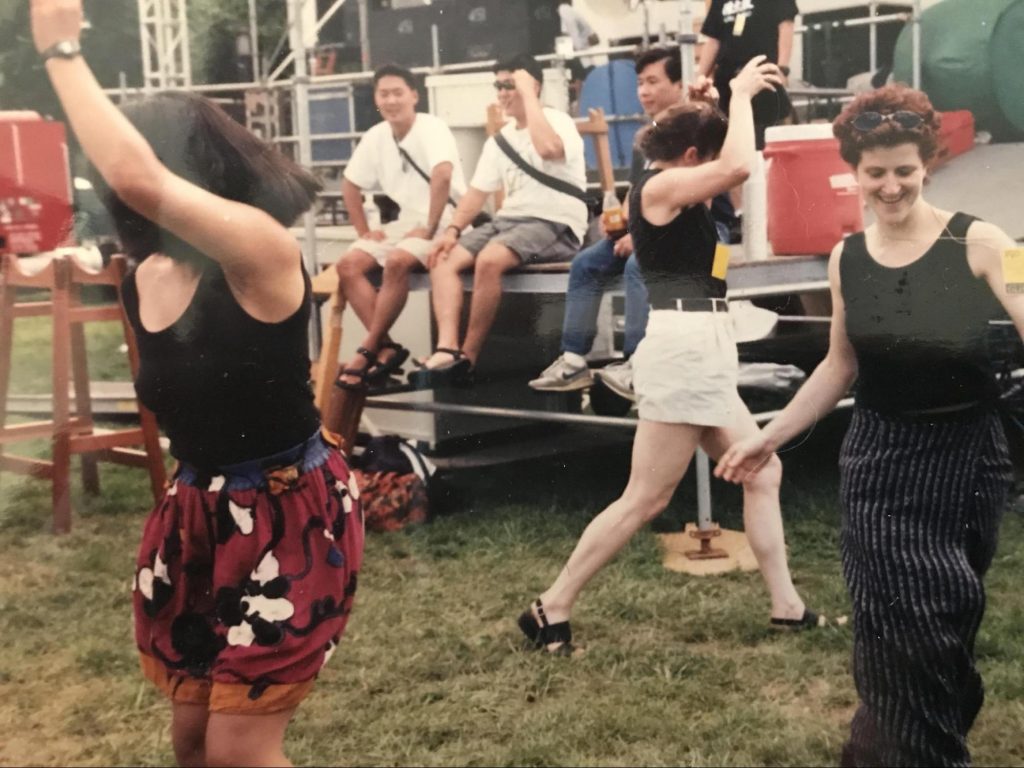 Lillian Cho
The strongest memory I have is more of a feeling – of love. She was the embodiment of Love. She seemed to have an endless supply of it to give to me, you, everyone around her. No questions asked. No judgement. I had never met anyone like that. And to be honest, have not met anyone yet. I envied her for it, I was in awe of it, and at times I may have even been confused and scared by it. An amazing woman.
Sandy Ikeda and Jenny Wada
We felt the childlike joy and enthusiasm Maria radiated to those around her and that she brought to her playing. It's such a shock to hear of her passing and so sad to realize that we won't be able to feel her energy and to see her radiant smile, except in memory.
Kelly Kuwabara
One day when I was one of a large group of Soh Daiko trainees, everyone was stretching and doing the usual catch-up on how we had spent our weekend so far. I answered that I had been protesting at "Miss Saigon" (this was during the original Broadway run in the early 1990s). One of my fellow trainees expressed surprise that there could be any reason to protest the show. I explained the controversy, which mostly revolved around white actors being hired for Asian parts and playing in yellowface, and Maria – who was stretching across from us (she was already a member) – said that in addition to that, she wasn't crazy about the story itself. The person I'd been talking to looked like he'd been handed an ace-in-the-hole. He practically leapt up, and he said gleefully, "but it's based on a true story!"

As I learned over the years, Maria was usually a passionate and emotional arguer. In this instance, before I'd even begun to figure out how to articulate a response, she said simply, "A lot of things are true. It's a matter of which stories get told over and over, which stories are celebrated. And which stories don't get told at all." It was such a simple, profound, and important answer (and one to which my conversational partner had no reply). I'm grateful that she was able to articulate it so well and so clearly, on the spot. When I'm writing, consuming culture, telling stories, or deciding whether to tell something, I still think of it often, nearly 30 years later. Each time I do, I see her saying it, confidently but earnestly, as she stretched her hamstrings.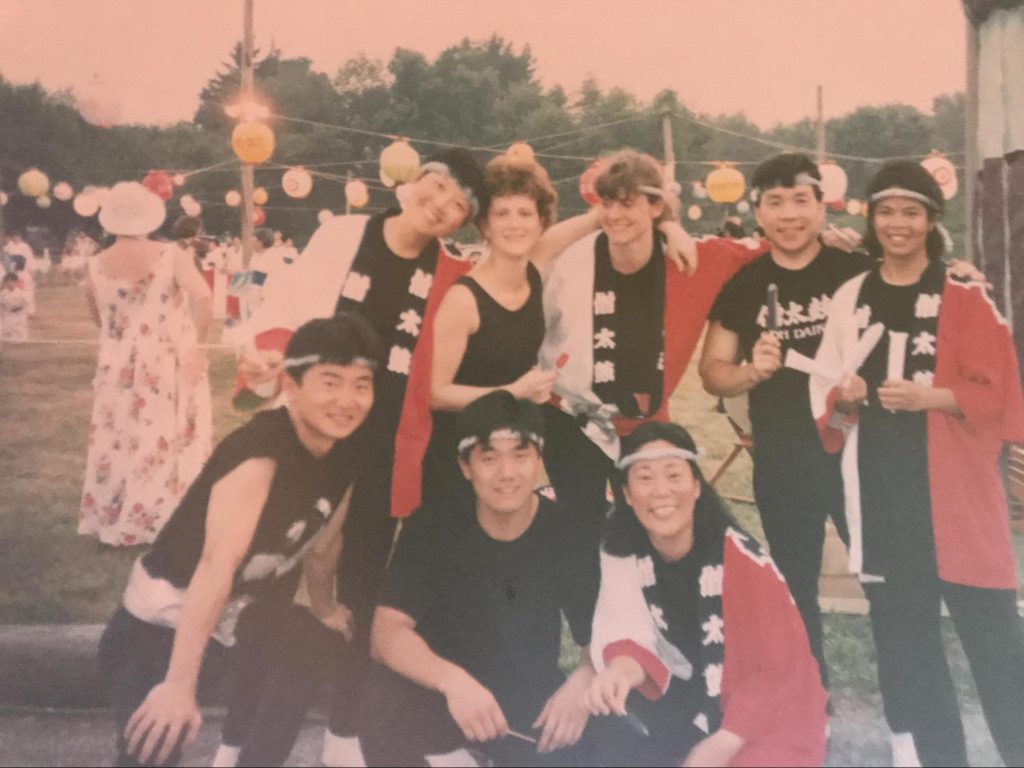 Another thing comes to my mind every so often is a conversation when we were talking about the simultaneous empowerment and vulnerability of playing taiko and being in Soh Daiko. She described the vulnerability – the necessity of putting so much of oneself out there, and on the line, to be a part of this joyful, powerful Asian American group – as being like "a tiny mollusk without a shell." As she said it she made a gesture gently holding up her cupped hand as though a small, unprotected mollusk were in it.

One other memory is from a happy time when a group of us were eating some incredibly delicious mochi ice cream in Manhattan. We were raving over it, thoroughly enjoying it, and Maria's description was, "it's so good that it's almost embarrassing to eat it in public." It's another Maria quote that still comes to my mind frequently after all this time, when I'm eating something that's just that good.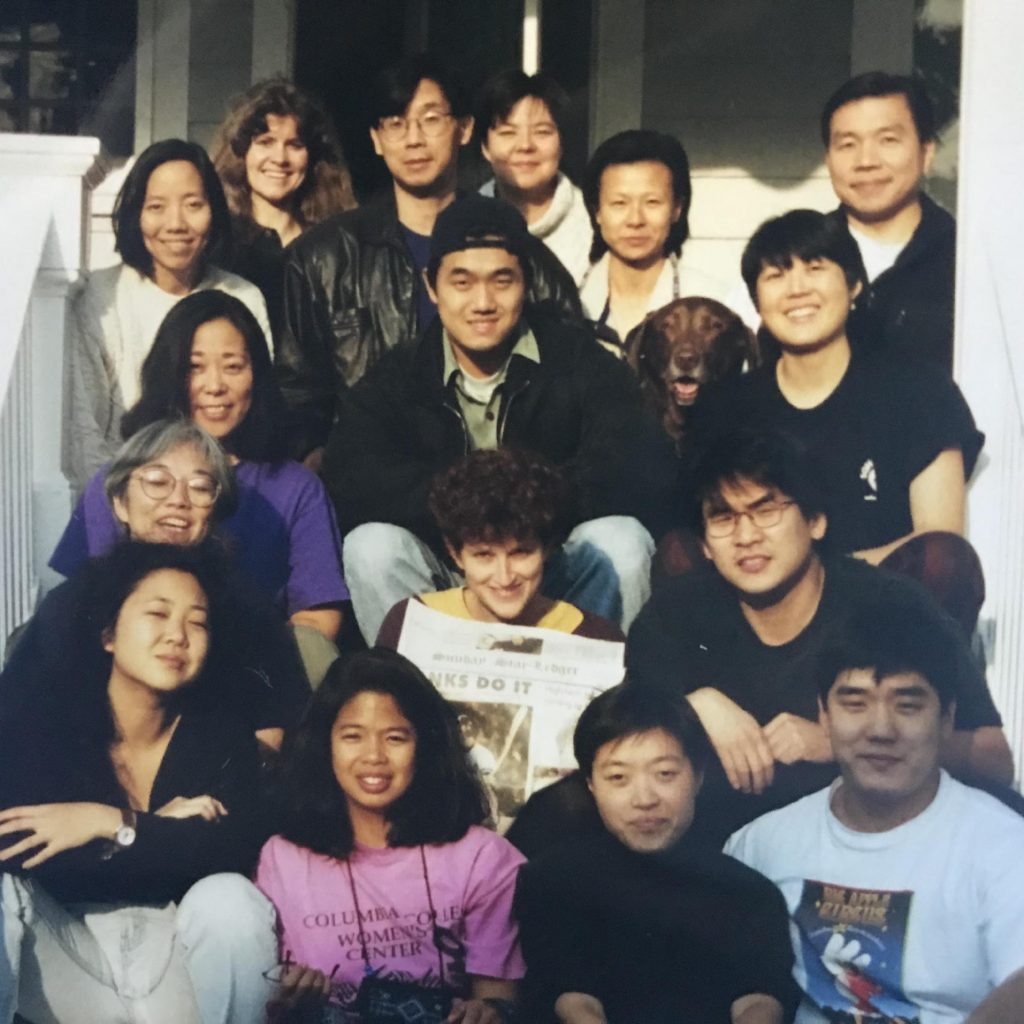 Of course, there are hundreds or thousands of memories from all of those years spent in close collaboration, practicing and hanging out together, being part of a taiko family together. Most of them are just the kind of everyday moments that don't make for stories, but are just the precious everyday interactions that make up all of our lives. These were a few that were easier to put into words. The last memory that I'll write down here is a thought about Maria's smile. Most of us have many ways of smiling, and maybe Maria did too; but in my memory, she only had one smile – the full-faced, broad, open smile that's in so many of the pictures of her, that she wore frequently and gave freely.

Love to Maria, her friends and family, and to our Soh Daiko family, from Kelly
Shinji Yoshida
Maria was a very GENKI girl. Friendly, caring for the others, dancing happily. I miss her high tone voice. I see her dancing in the sky.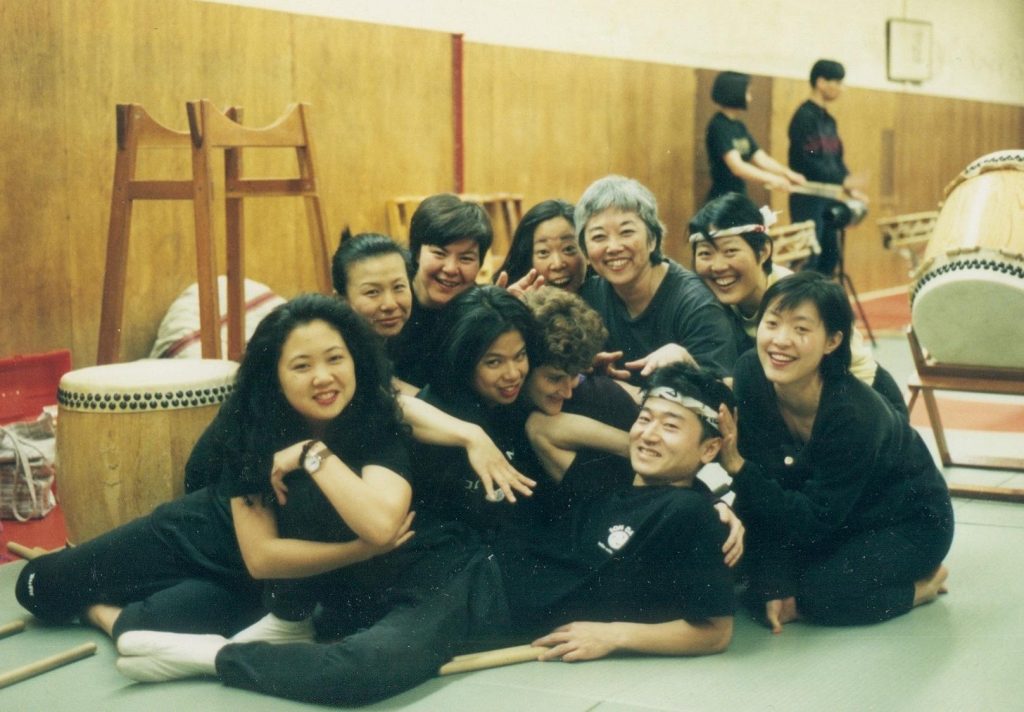 Gayle Horio
When I think of Maria I think of her generous spirit. She always went out her way to help others any way she could. She gave 150% to every endeavor she undertook. I remember her welcoming me into Soh Daiko and sharing her love of taiko and encouraging me throughout.

She will be sorely missed.
Hideaki Nishikura and Hitomi Kimura
We played and practiced the Taiko Drumming with Maria for about three years. She was always there to help the members of Soh Daiko with a big smile, and with love. She was one of the sweetest souls in the group and showed her personality on stage. We've shared the moments at the practices, and the retreats, and especially on the stages that will be there for good in our soul. We're so grateful to know Maria in our lifetime. We'll remember you whenever we play the Taiko, hoping the sound of the Taiko might reach you. We miss you Maria.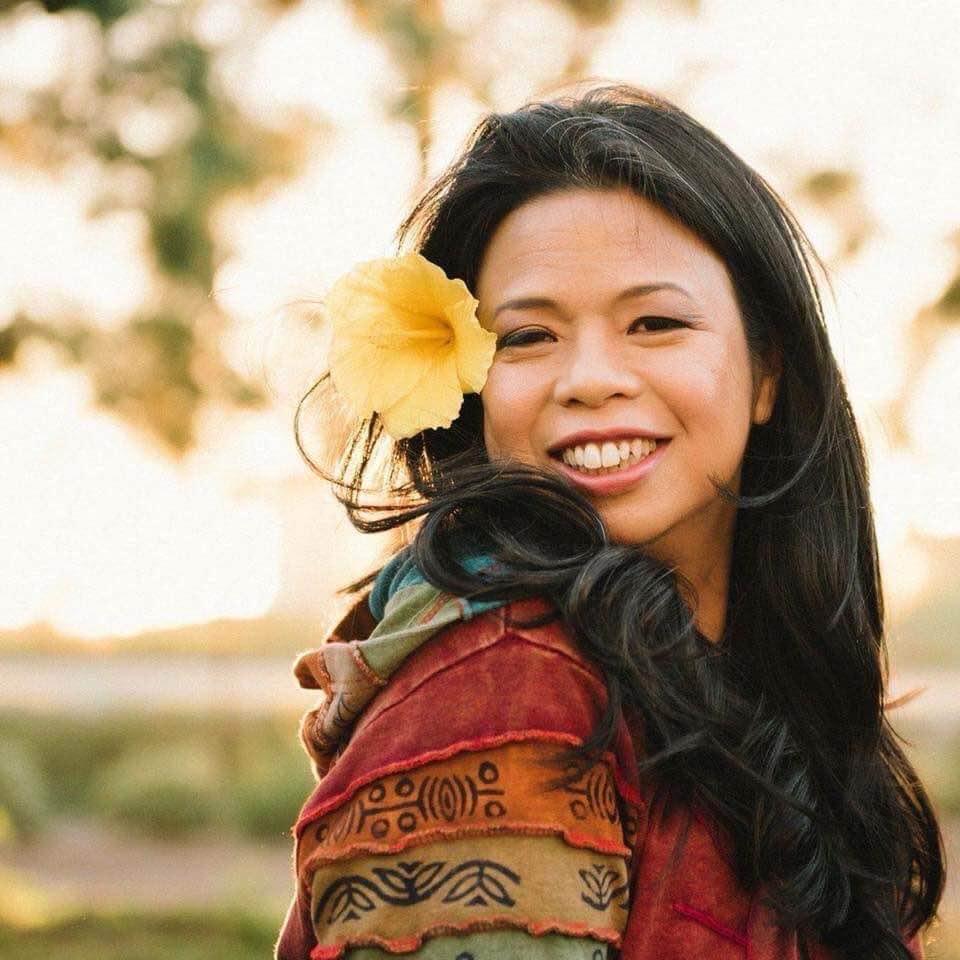 Kathy Fuller
Maria "Maiyah" Olivas drummed the way she lived her life – with a poet's soul and a warrior's spirit, playing with equal parts power, joy and abandon. Her movement, both fierce and nuanced, reflected her martial arts training and dance background.

She is the one who introduced me to taiko. Actually, lured would be more accurate. Maria and I studied Okinawan karate together at UVA and sometime after college she entered the JET program and moved to Japan, where she discovered and subsequently devoured taiko.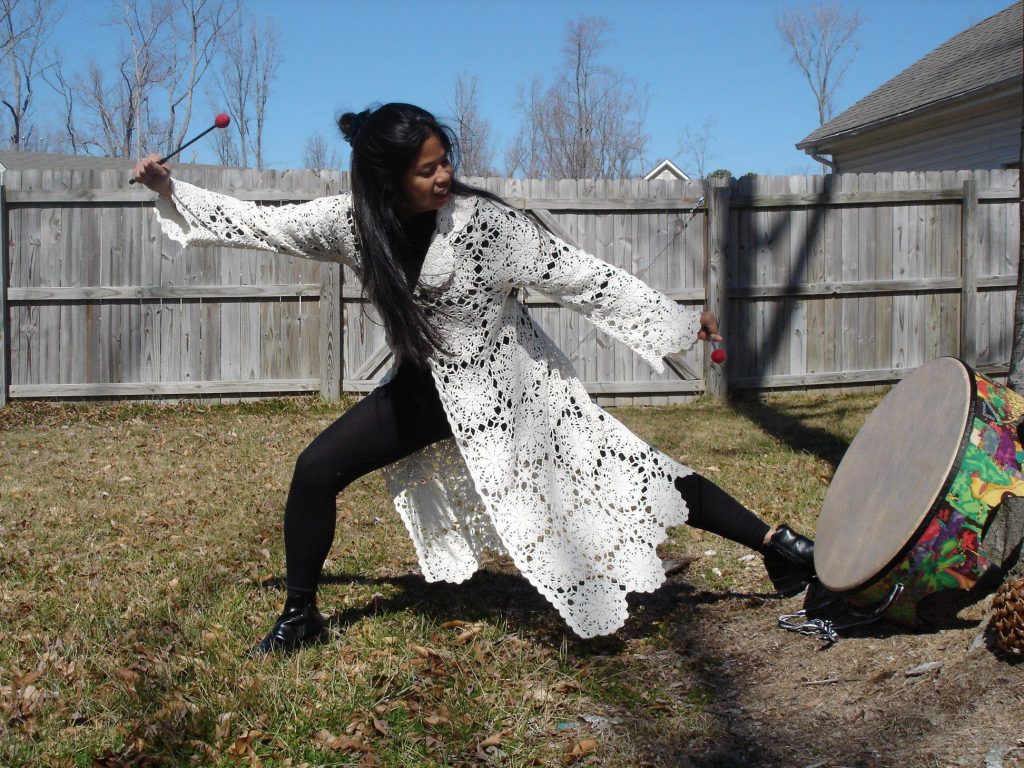 During a visit back to the States, she showed me a video of her playing. I was hooked. Taiko had everything – powerful drumming mixed with martial arts- and dance-inspired movement. Wow! When she returned for good, she joined Soh Daiko and a year later invited me to join a two-day audition workshop that turned into my own lifelong love and playing of taiko.

As a fellow member of Soh Daiko, I remember her to be intensely hardworking and devoted to the group. She would drum until her hands blistered and there were puddles of sweat on the floor. Outside of the dojo she was wildly creative, charming and uninhibited – dancing like no one was watching and howling at the moon. She always made taiko road trips an adventure, regaling us with colorful stories and belting out corny songs from the 70s.

When she moved to Virginia and I moved to California in the early 2000s, we fell out of close touch. I last saw her in late 2014, when we arranged to meet in New York for Soh Daiko's 35th Anniversary celebration. There we caught up and reminisced and lip-synced to a Supremes song, and later that night we hugged each other tight and said our goodbyes, never imagining we wouldn't see each other again.
Tamiko Ooka
I got to know Maria when I was a teenager in Hoh Daiko and she was a member of Soh Daiko. We spent a lot of time together practicing to perform a rendition of Yatai Bayashi with a mix of Soh Daiko and Hoh Daiko members. She was always so friendly and helped to build my confidence whenever I doubted myself. When I moved to Japan on the JET Program, she was the first person to visit and invited me on a trip to Tsukiji Market with her. We took the last train at 2am and stayed up all night talking until early morning only to find out it was Obon and the only time Tsukiji actually closes. I still had the best time! I will miss her dearly – her smile, her laugh, and her incredibly warm hugs.
Bryan Yamami
Maria was a warm, kind, and gentle spirit. We'll miss her bright smile and compassion.
Monona Yin
In the late '90s, we performed as part of an all-drumming lineup at Symphony Space with Baba Olatunji and others. At the end of the show, everyone came onstage to take a bow. Baba was playing, accompanied by his troupe's African dancers. Maria, along with Kathy Fuller, knew the moves so they jumped in and started dancing, too! With pure joy, they became African dancers in happi coats while the rest of us – and the audience – looked on in amazement. That was Maria – exuberant, eclectic and un-selfconscious. She was a sponge for cultures of all kinds.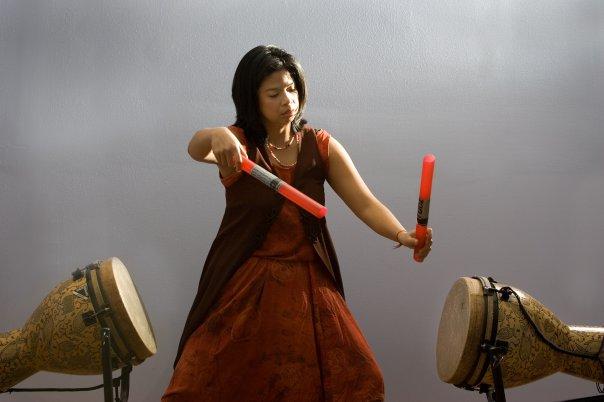 Choony Lee
I was really excited to be finally performing at my Alma-Mater, even if it was just in the Barnard gymnasium. But I wasn't feeling well. I didn't know what would make me feel better. As if by magic, Maria handed me a ginger tea, she had bought extra, just in case someone would want or need one. Her generosity warmed my heart so I could give all to my drumming. I thank her for her giving and lively spirit.

Alan Ooka
I remember Maria as someone who wore her smiles and energy on her sleeve; who was ready to share a laugh, ready to talk deeply and ready to photograph beauty. I didn't know her well, but memories of her feel wonderful.

Toni Yagami
What I remember most about her was her beautiful smile and wonderful up-beat personality. She was always so positive.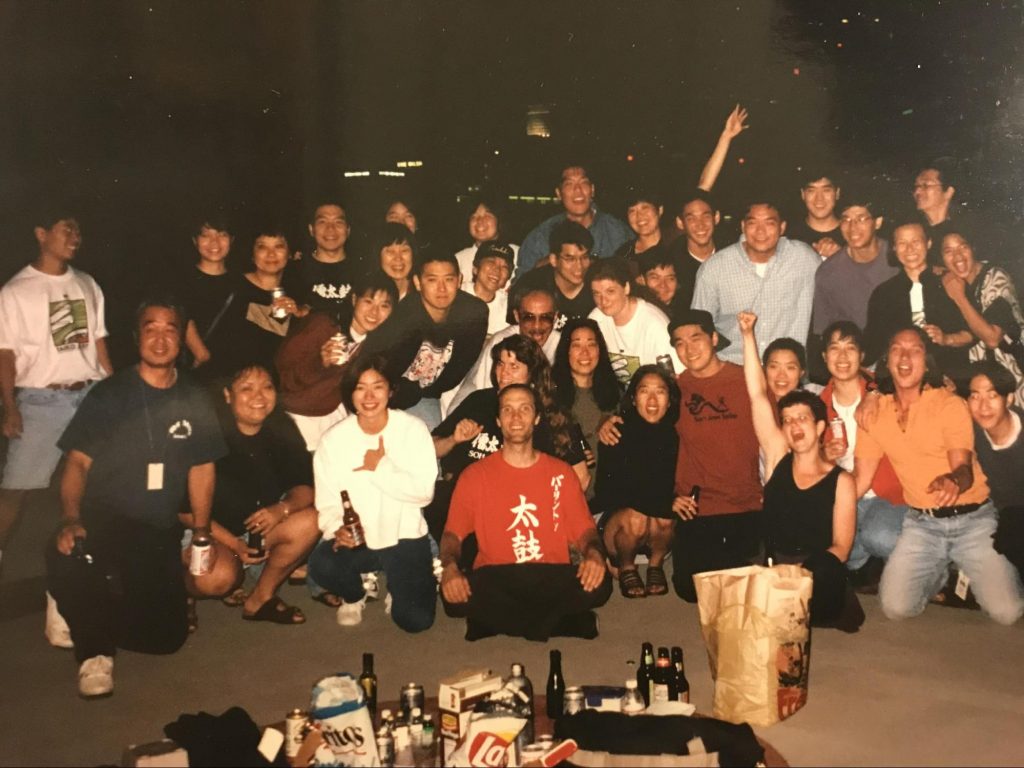 Karen Fowler

Maria. Maiyah.

25 years before her heart stopped beating.

We are in the dojo…
her smile, broad and toothy, her eyes sparkling as she plays the damn hell out of something;
she is laughing, cackling really, and it startles me out of my trainee fear;
her hands, her wrists, are so fluid and graceful as she moves and then snap, she connects with the drum. This is what it means to play through the drum. I am learning.

We are dancing and singing and drinking too much sake on the hotel rooftop in LA. It's the first Taiko Conference. We are loud and sweaty and alive.

25 years before ….

She is young, gifted and brown.
Sometimes she hugs me longer and stronger than I know what to do with…
but I trust her and my walls begin to melt.

One night, hours after we leave the dojo and Flor de Mayo, we wander the empty streets of midtown Manhattan of the 90's. We talk and walk for hours. Eating ice cream. Sipping tea. Trying to make sense of life, to give it meaning, to be alive and awake and rebellious and hold onto goodness while untangling from the rules handed down through religion and society.

We want to be good. We want to do good.

25 years later.

Your big heart stops beating.
Honoured in death as you honoured yourself and your family in life.

I see you Maiyah.
I hear you drummer girl.
I remember you.

I love you.

Rest in peace.