October 1st, 2022 & October 8th, 2022
Do you love taiko? Have you always wanted to try playing taiko? Have you played taiko and want to join Soh Daiko, the first taiko group on the East Coast?
Soh Daiko is pleased to offer two public recruitment workshops this October. Learn to play taiko and try out to be a member of the group! No experience is necessary. We will provide everything you need to play.
The workshop will include a brief history of Japanese drumming, an introduction to taiko fundamentals, demonstrations, and guided exercises. As we are a performing group, we will ask participants to demonstrate what they learn at the end of the workshop, and submit a self-made video the following week for assessment (more details will be shared at the workshop). Selected recruits will be contacted on October 13th to join the year-long training program, starting October 15th. This year, we are offering 2 recruitment workshop dates, as space is limited per day. Attendance is required at ONE of the following recruitment sessions. Note: Space is limited to 9 participants per session due to COVID-19 restrictions in the workshop space.
---
Session 1: Saturday, October 1st from 1:30pm – 6pm
Session 2: Saturday, October 8th from 1:30pm – 6pm
NOTE: You only need to attend ONE of the workshop dates. Check in will start at 1:30pm, please arrive on time. The workshop will be followed by a reception with apples and seltzer from 6-7 PM.
Location: New York Buddhist Church, 322 Riverside Drive, New York, NY 10025
Cost: $40
To register, please complete the following steps:
Fill out the registration form.
Pay via the PayPal QR code below or by clicking here (preferred method)*
*If you are unable to pay ahead using PayPal, cash or a check made out to New York Buddhist Church/Soh Daiko will be accepted upon arrival.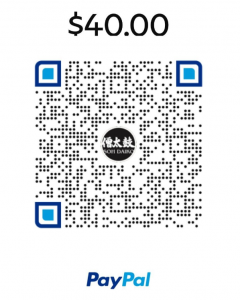 ---
About being a member:
Please note that Soh Daiko mandatory rehearsals take place every Thursday from 7pm – 9pm, and Saturday from 2pm – 7pm. In order to be considered for membership, you must be available during our regular rehearsal times.
Becoming a member of Soh Daiko takes commitment – please be sure to read the details of our trainee and probationary periods here.

Current safety protocols:
Currently, as the space we rehearse in is a shared space, it is required that all workshop attendees be vaccinated against COVID-19, with proof available to show before entering. Additionally, masks must be worn at all times during the workshops. If you have any questions about the COVID-19 protocols, please contact us directly. Taking into account global pandemic safety measures and guidelines, Soh Daiko members have also held virtual rehearsals using online platforms (i.e. Zoom). We expect all members and trainees to join virtual rehearsals held at the same time as in-person rehearsal should safety guidelines recommend we not gather in person in the future.
---
We are looking forward to you joining us for a day of drumming! All experiences are welcome. Please share with your friends, family and colleagues!
See you there!
SOH DAIKO MEMBERS
If you have any questions, please contact Jane at: jconrad@sohdaiko.org
This program is made possible by the New York State Council on the Arts with the support of the Office of the Governor and the New York State Legislature.