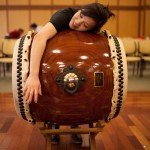 On March 3, 2012, Soh Daiko packed up our taiko and drove out to Carlisle, PA to give a workshop and performance to the students, friends, and family of Dickinson College. Upon arrival, we were greeted by Shawn Bender, Assistant Professor of East Asian Studies and author of an upcoming book about the roots of taiko, and prepared for our taiko workshop!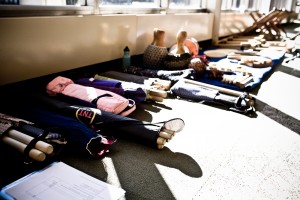 The ten workshop participants listened to Alan's short history of taiko from Japan to the East Coast, and then they quickly warmed up with jumping jacks, sit-ups and push-ups. After teaching them a few basics, we handed the bachi off to them and they got their first chance to hit our drums! We hope they came away with a better sense of the important aspects of taiko, from history to hitting. Look out for the newest taiko group on the East coast – Dickinson's own up and coming taiko group!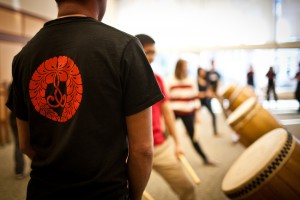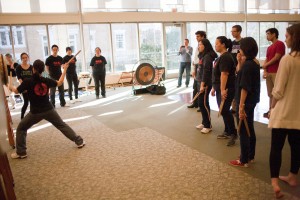 After the workshop, we breaked to inhale our dinners and get ready for the show. Our one hour performance from 7-8pm was quickly approaching as it took time to get all our obi just right. Wearing our traditional red and white happi, we started with Miyake, and moved through the six pieces, changing the atmosphere from serious and pensive to festive and fun. Ending with our signature piece, Hachidan, we recieved a warm round of applause and a sigh of relief! Our first full performance of 2012 was finally under our belt!
We were very pleased with the turn out and had a chance to interact with the audience members afterwards, such as one sweet Japanese lady one who had traveled from the Japanese community in Texas to visit the school and who expressed her delight to have had the good fortune to be there for the performance. Perhaps she will show up for our workshop later this year!
We hope the Dickinson community enjoyed our performance as much as we enjoyed our trip out to Carlisle! Thanks to you all, and thank you to Shawn for supporting Soh Daiko and the spread of taiko in America.