Soh Daiko Public Workshop: Saturday, June 27th!
Have you ever wanted to try TAIKO? Soh Daiko is pleased to announce a Public Workshop this summer!  We will introduce the fundamentals of Japanese drumming through a short lecture, demonstrations, and guided exercises. No experience required!!!
Participants should wear comfortable clothes (for exercise), you will be drumming, moving and jumping! Register now!
Soh Daiko Public Workshop
Saturday, 27 June 2015 from 1:30 – 7:00pm
Location
New York Buddhist Church
332 Riverside Drive, New York, NY 10025
Payment:
Preferred method – Paypal, or make bring cash or a cheque made out to "New York Buddhist Church / Soh Daiko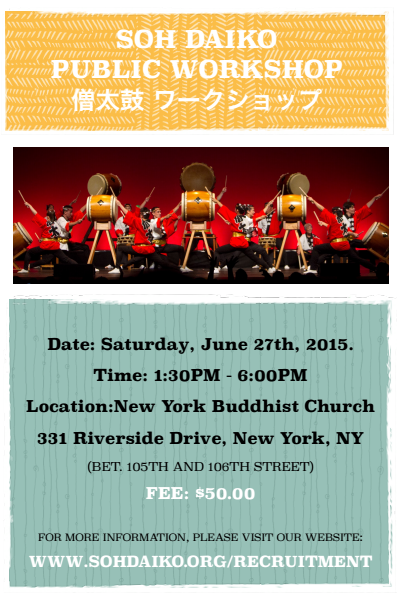 Soh Daiko is not recruiting at this time. Below is some information on upcoming recruitment.
______________________________________________________________________________
Trainee Period
Trainees enter a three-month program to study basic taiko techniques and patterns. Soh Daiko rehearses Thursday evenings from 7-9:30pm and Saturdays from 2-6pm. There are additional trainee practices on Saturdays from 6-7pm. Attendance at all rehearsals and trainee practices are required; lateness and absences are closely monitored. As time in the dojo is limited, additional individual practice and strength training is strongly recommended.
At the culmination of the three-month training period, trainees will demonstrate their ability to play various selections of taught repertoire. If trainees are able to demonstrate improved taiko ability, followed by a unanimous group vote, trainees may become Probationary Members for an additional three-month period.
Probationary Membership
Probationary Members are required to further improve their taiko abilities by continuing to attend all rehearsals, as well as take part in group meetings and various administrative responsibilities. (Probationary Members are considered Group Members with the exception of voting privileges.) At the end of the three-month probationary period, Probationary Members will be evaluated by the group and voted on for full membership. Full membership requires a unanimous vote by Soh Daiko.
Full Membership
Members are expected to attend rehearsals and performances, support the Mission Statement of the Charter, and take on responsibilities as listed in the ByLaws.