This past weekend, Soh Daiko road-tripped to the University of Connecticut for the 2020 East Coast Taiko Conference. We attended workshops led by professionals in the community, taught a workshop on our version of the Miyake playing style, and opened the ECTC Final Concert with our arrangement of Matsuri Daiko. It is always so exciting to reconnect with old friends and meet new members of the community, all while celebrating and exploring the traditions and evolution of this art form we're all so dedicated to.
The weekend started early on Friday as current and alumni members of Soh Daiko attended and assisted in hosting a welcome luncheon by the Taiko Community Alliance. Many attendees had arrived the night before to attend a concert by DRUM TAO on campus, and the luncheon proved to be a wonderful opportunity for everyone to catch up and relax together before jumping into the flurry of conference activities ahead. Hosted in UConn's Asian Americans Cultural Center, a highlight of the event for us was learning from staff and students about the history of Asian American presence at UConn through an incredible timeline mural in the Center; we also heard how supportive their organization has been of Kodama Taiko and their efforts to bring our community together this weekend. If you're ever in the area, we highly recommend you stop by to see the mural for yourself!
During the conference, we had the privilege to lead a workshop on Miyake, a style of taiko playing founded on Miyake Island and popularized by the group Kodo. Soh Daiko was first taught Miyake by members of Kodo when they visited New York City on tour in the 1980s. Over the years, Soh Daiko members have taken workshops with the Tsumura family, who originally taught the style to Kodo. At this year's ECTC, we taught participants the basics of our Miyake stance, technique, and rhythms, emphasizing core elements that ring true for all variations on the Miyake style. And, of course, we demonstrated our own arrangement of Miyake, influenced by our early training with Kodo and with our unique New York flair.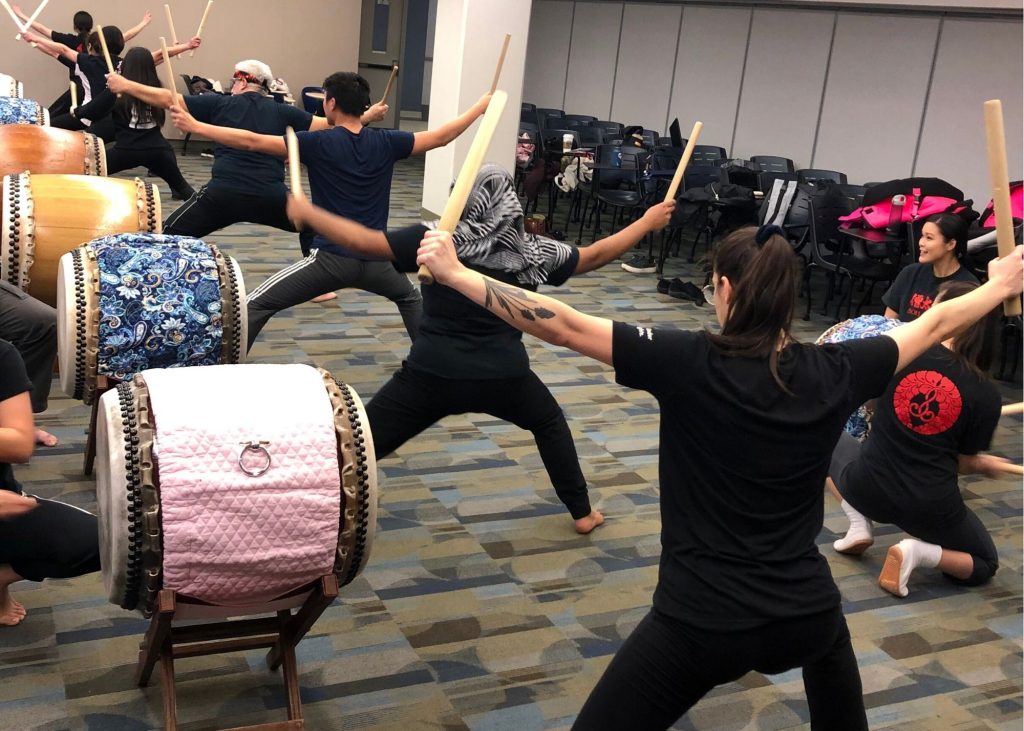 At every ECTC, a full day of workshops culminates with the Final Concert in which collegiate, community, and professional taiko artists alike perform for the East Coast community. This year, we opened the show with one of our signature pieces, Matsuri Daiko. Although many taiko ensembles play a version of Matsuri, our arrangement's choreography and rhythms are unique to Soh Daiko and allow us to share our true spirit with our audience.
Another ECTC staple is the opportunity to attend discussions by pioneers and activists in the taiko community. On Sunday, one of our founding members, Alan Okada, presented a comprehensive and engaging "Taiko Talk" about the history of taiko and its journey from early Japan all the way to the present-day east coast of the United States. As a member of the Taiko Community Alliance's Advisory Council, Alan is highly involved in documenting, developing, and leading the North American taiko community forward. One of Alan's recent achievements has been creating a timeline documenting the founding years of all taiko groups on the East Coast, demonstrating the art form's rapid expansion in the last few decades.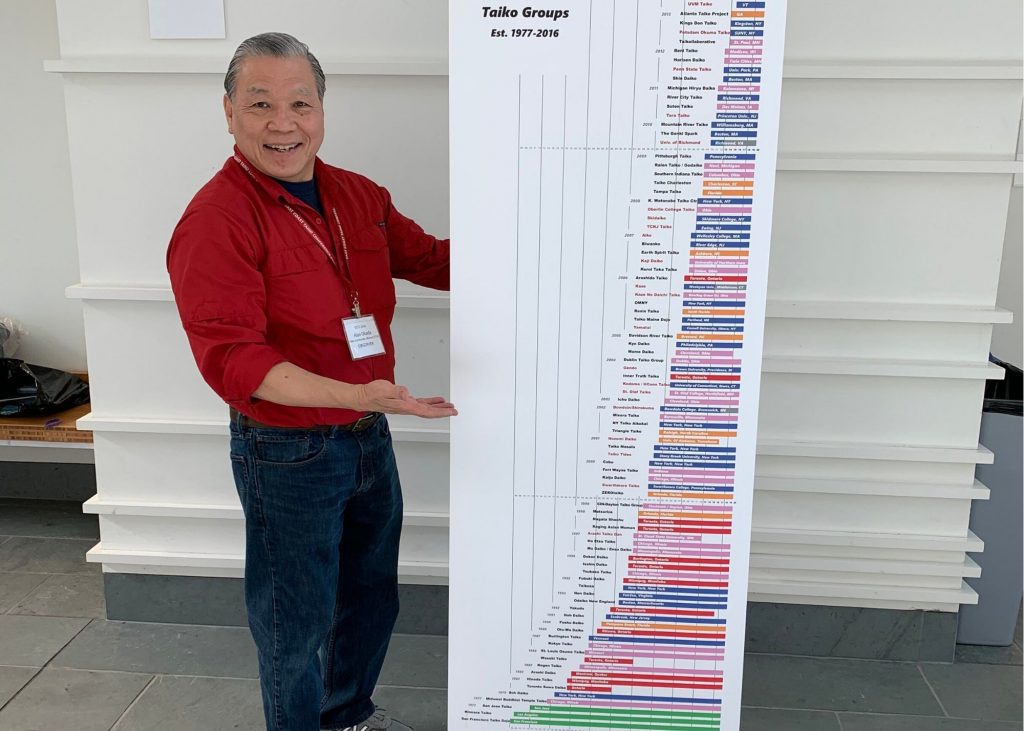 As a student-run and volunteer-driven event, we were happy to support the ECTC organizers' goals by contributing to UConn Kodama Taiko's crowdfunding initiative in the weeks leading up to ECTC, and we thank everyone who donated to our team fundraising page! With everyone's support, Kodama Taiko surpassed their goal and raised over $6,000, all of which contributed to bringing together talented artists and building community at this extraordinary event. As a part of the crowdfunding initiative, Kodama Taiko teamed up with Asano Taiko U.S., who generously donated several prize packages in order to give back to those who contributed to ECTC's fundraising efforts. We're excited to report that our team completed the campaign as the top fundraiser, allowing us to take home a beautiful brand new katsugi okedo from Asano Taiko U.S.!
We're so proud of all the teams in our community who fundraised and helped the ECTC organizers reach this goal, and of the many individuals who contributed their time with volunteering, their resources with equipment loans, and their spirits to energize the weekend. A big shout-out goes to UConn's Kodama Taiko for the immense work put into hosting this year's conference. We're honored to have been a part of ECTC 2020 and are already looking forward to the next ECTC, hosted by Gendo Taiko at Brown University!